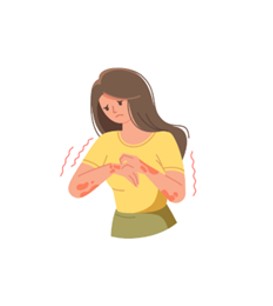 The study consists of 5 consecutive groups, and you will be randomly assigned (like a flip of a coin) to receive either a placebo (liquid without the study drug) or the study drug, at a given dose level. Those in the first group receive the study drug at the lowest dose and the dose level will increase in each proceeding group, with the highest dose of the study drug in the last group (group 5).
There is a total of 16 people per group, 12 of which would receive the study drug and 4 would receive the placebo. You will receive either the study drug or placebo every two weeks for a total of 4 injections. During the study, neither you nor healthcare professionals will be aware of who receives the study drug or placebo.
Participation will last approximately 3 months, with a total of 23 on-site visits. Administration of the study drug or placebo will occur on Days 1, 15, 29 and 43.
Patients may be eligible to participate in extension phase with bi-weekly drug administration (of active drug) for up to Day 379.
Blood samples are done at each visit.
Skin biopsies (a small piece of skin) and medical photographs of your skin will also be taken during the study on 3 occasions.
Compensation may be provided for time and travel. Participation will come at no cost to you.
---
Visits
Drug administered on which days
4 total (Days 1, 15, 29, and 43)
Visits take approximately 1 hour to 2 hours each, except for Days 1, 15, 29, and 43 which may take approximately 6 hours to 8 hours
Blood samples taken at each visit and skin biopsies (a small piece of skin) and medical photographs will be taken on 3 occasions during the study
Summary
We are currently recruiting subjects aged 18 to 75 years (inclusive) with moderate to severe atopic dermatitis (eczema) to participate in an investigational study. The primary purpose of this research is to figure out how safe the investigational study drug (XmAb27564) is, and how participants with atopic dermatitis (eczema) react when given the treatment multiple times. Investigational study drug means it is a drug that has not been approved by the FDA.
Condition
Atopic Dermatitis (Eczema)